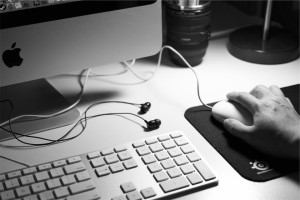 Image: Jonathan Pendleton
It pays to be technically minded and swift in the art of computers as technology is moving at breakneck speed and computers have permeated every corner of the world. These days you can't walk down the street without seeing someone on
their phone, notes Neil Marsden, a senior software developer with Greenland International Consulting. In Marsden's eyes the information technology job market is solid across the board, especially in the Toronto,Mississauga, Waterloo, Cambridge and Guelph areas.
Software engineer Pascal Vantrepot, who recently developed an iPad storyboard app for his
company, Tamajii, agrees that the market is good, at least in terms of software
jobs. "Lately it's been hard to find good software engineers," he says. "Some of
my ex-co-workers get called every day [by employers]."
This NPR article (U.S.) waxes enthusiastic about the opportunities for developing software applications for mobile devices. "Because this skill is relatively new –and changing all the time — it can be hard for companies to find people with the
hot new talent that is suddenly indispensable."
According to the national Outlook on Human Resources in the ICT Labour Market report, software engineers are one of three computer occupations projected to fall short of hiring requirements between 2008 and 2015. (The other two are
computer and information systems managers (PDF) and information systems analysts and consultants.) In fact, according to the above report, prepared by the Information and Communications Technology Council (ICTC), more than one third
of projected hiring requirements will be focused on these occupations.
In addition to the three careers mentioned in the report, Ontario Job Futures predicts that these two computer careers will have good employment prospects until at least 2013: systems testing technicians (PDF) and user support (help desk)
technicians (PDF). (Keep in mind that help desk work as well as support for legacy applications, coding and e-commerce are considered at risk to be outsourced.)
Also, before you make any career decisions know that the federal Working in Canada site is less than enthusiastic about the prospects in the IT field in the coming years. For example, although the site says that the job prospects for
software engineers in Toronto are currently above average, over the 2009-2018 period, 190,335 job seekers will be available to fill 131,006 jobs.
Still, in the U.S. many sources are optimistic about the outlook. "Employment in computer systems design and related services is expected to increase by 45 percent, accounting for nearly one-fourth of all new jobs in this industry sector,"
according to the U.S. Bureau of Labor Statistics 2008-2018 employment projections. And in this Arizona Business & Money article a Phoenix high-tech firm rep says the following: "If you're in a computer-science program, stick with it. You
can almost write your own ticket for that."
If you really want to increase your chances for employment, take some business courses and develop your soft skills as well as your technical abilities. According to the ICTC report: "While technical skills are crucial, employers are placing more emphasis on written and verbal communication skills, project management skills,leadership and management skills, presentation skills and appropriate business experience."
This article originally appeared on poss.ca.