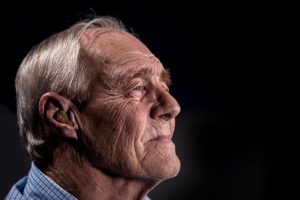 Rejection―real or imagined—is like a late November dampness seeping down the muscles of my back, spreading to my nerves, then settling down into the hard bone of my spine.
I long to rid myself of this uncomfortable feeling by running away or hurling my aching body into a deep sea of swirling water. Ultimately, though, I feel better when I stand my ground and show up proud―and sometimes loud―despite my wounds.
To motivate myself, I reflect about people, present or past, who have spoken up despite being tamped down, viewed as other, or locked away because they seemed "different." Granted, the definition of "normalcy" seems to have broadened over time, making it easier for folks to talk about experiences with racism, sexism or homophobia, or even previously unmentionable topics like gender fluidity or mental health challenges.
These days, there are also voices rumbling in the distance from yet another stigmatized group of people―those living with dementia.
Although some people (and their families) are reluctant to talk about the disease, others have stepped forward to share their stories publicly on places like Dementia Diaries, a UK website that contains audio diaries of people in the early stages of dementia. It's refreshing to hear people like Keith Oliver, who refuses to be seen as someone who is looked after by his wife. As he emphatically states, "Rosemary is not my carer, she is my wife who cares for me, and I'm her husband, and I care for her."
The New York Times' Patient Voices: Alzheimer's Disease project also captures the voices of people in the early stages of this progressive illness. I felt most moved by John MacInnes, 82, who is taking steps to improve his quality of life. Not only is he getting his long-term care and financial issues in order, he spends his free time carving birds out of wooden blocks, a hobby that helps him maintain focus.
MacInnes, Oliver and the others humanize an illness many people (myself included) want to avoid looking at. They also serves as examples of people with enough grit to face hard realities square in the eye, refusing to be tucked away in the shadows.